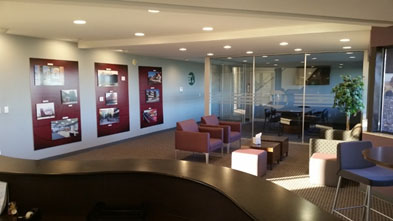 The corporate office renovation project of the E&L Construction Group, Inc. was named a finalist in the Build Michigan Award competition for 2016. This renovation project took a multi-purpose facility consisting of a large airplane hangar, 2 story office building, and a 2 story condominium and turned it into a state of the art, contemporary corporate office facility. "We outgrew our old headquarters. We had been there for over 30 years and simply had no more room to grow." stated Greg Krueger, CEO & President of the E&L Construction Group, Inc.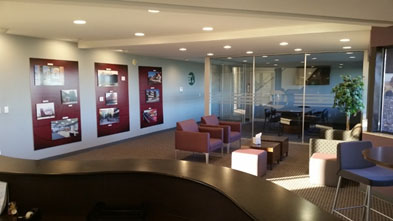 "We wanted to stay in Flint and be part of the Flint comeback story. This location was ideal for servicing the General Motors plants in Flint and was convenient to the 3 main interstates."
E&L took on the design aspect of the project in hopes it would save them time and get them in the new facility earlier. "We knew what our needs were, where we were heading in the future, and felt we had a good handle on the direction our industry was taking in terms of office usage. So, we rolled up our sleeves, designed the project, and put the construction in place. " according to Krueger.
The office features collaborative workspaces, technology upgrades, and room for planned growth. E&L will be adding a new storage and production facility as well as a new entrance structure to their campus located at 3040 Airpark Drive, South. They will also be adding additional parking and access drives this summer.
"We will be adding additional office space to our future planning as we are currently out of space in our new facility after only 6 months. We are very thankful for the work we have and will continue to grow to support it. We look forward to bring our field operations to our new offices later this year."
The Build Michigan Award recognizes construction excellence. E&L has had several nominations awarded the "finalist" recognition and has taken first in the state and second in the nation on past projects.